Full Armor Band is more than just music. They are encouraged and inspired by the Catholic faith and bring the Gospel message to everyone they meet.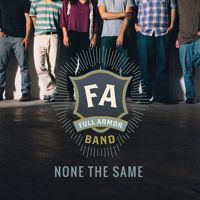 "So many faces / But none the same" … As the opening lyric from their latest album, None the Same, the statement rings true for Full Armor Band as they pave their way in the inspirational music scene with their unique sound and mission that has helped set them apart as one of the most promising bands on the rise. This band of friends features the ensemble style vocal harmonies of Tara Lakeman, (acoustic guitar), and Douglas Q. Hutchings (keyboards), Francis Zelinka (electric guitar), Matt Juliano (drums), and Brandon Morrison (bass).
Full Armor Band formed over seven years ago when the band was asked to lead music for a new youth Mass in their hometown of Middletown, NY. Over time, the band slowly began to receive invites participate in other Christian ministry events in their region. All of their hard work and determination paid off in 2008 when they were asked to perform for Pope Benedict XVI's youth rally in New York City in front of 25,000 young people.
Today, Full Armor Band continues to share their music and ministry at parish and diocesan concerts and conferences nationally. Their greatest joy is seeing God change the lives of the young people with whom they get to share in ministry.
"It's been exciting for us to see the youth we work with grow in their faith and relationship with God over time!," says drummer Matt Juliano. "It's important for us to remember that no else one has the same talents, flaws, and life experiences. Those differences are what God uses to give us all unique and individual purpose for our lives."
Audio: Lead Me To The Light
Connect with Full Armor Band

 Twitter: @fullarmorband

 Facebook: facebook.com/fullarmorband

 Instagram: instagram.com/fullarmorband

YouTube: fullarmorband
Website: fullarmorband.com
Order


iTunes Preview
Related