We're so proud to bring you Jackie Francois as our feature artist. We absolutely love Jackie not only for her beautiful voice and song writing, but for her work with her youth ministry and all she does for the kingdom. She's married to Life Teen author Bobby Angel so technically Jackie goes by Jackie Francois-Angel and they have a beautiful baby daughter, Abigail. More about Jackie and Bobby in a moment.
The music of Jackie Francois
Jackie is a full-time traveling speaker, singer/songwriter, and worship leader from Orange County, CA. In 2006, she became an artist with OCP Publications/SpiritandSong.com with whom she has released two albums, "Your Kingdom is Glorious" and "Divine Comedy." She has been involved in youth ministry since she graduated high school, and she now travels the globe speaking to young people about God's love and leading worship for various events and ministries. Coming from a musical family, she has been singing nearly her whole life, learning music theory at a young age. Jackie learned how to play the violin and performed in many musicals. During her senior year of high school, she taught herself how to play guitar, which led to the beginning of her songwriting.
After her debut album, Your Kingdom is Glorious was released to stellar reviews in 2008, she continued to cultivate her talents and gifts as a songwriter, worship leader and speaker. Our featured track, Everything I need, is from her most recent release, Divine Comedy. he entire album showcases her evolving musical talent and is a true celebration of life with songs of joy and tenderness.
Jackie and Bobby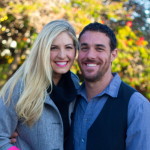 Jackie and Bobby met in the Pennsylvania Amish countryside at a lay retreat center named Black Rock. At the time Bobby was in seminary…discerning the Catholic priesthood. Respecting the discernment process, they stayed in contact as friends. Ultimately, God had other plans for Bobby and in God's glorious time they married in August of 2013. While juggling family life and careers, they blog at jackieandbobby.com.
Connect with Jackie Francois

 Twitter: @JackieFrancois

 Facebook: JackieFrancoisMusic

 YouTube: JackieFrancois
Website: http://JackieFrancois.com
Related