Our featured artist, Teresa Peterson, is a Philadelphia singer/songwriter/worship leader. She's recognized for combining heartfelt lyrics and a stunning, yet vulnerable voice. Stepping into the spotlight at the young age of 16, Teresa Peterson's musical journey has taken her far from home, to famous singer/songwriter venues such as 3rd and Lindsley (Nashville, TN) and The Bitter End (New York City, NY).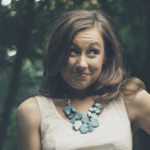 The debut album by Teresa Peterson, Say Something, provides an introspective and at times an all too honest view of life and love through her eyes.
Teresa Peterson shares, "This album was the first thing I had given the world that was individually mine. I lived it. I wrote it. I watched it come to life in the studio."
This album, the result of three years in Nashville, TN, was released to a standing room only crowd in her hometown of Minneapolis, MN and has aired on over 120 college and independent radio stations nationwide.
The newest EP from Teresa Peterson, Freely Fully, reveals her creative path which has been a tumultuous, exciting, devastating, unknown journey. The most compelling place it took her was the hidden tombs within herself.
She describes, "I had my own idea of how my music was going to go. My career. My path. My future. When that didn't happen in the way I planned, I thought perhaps God didn't want to use me. That my dreams were meant to die and stay buried, deep below the ground. But thankfully, our God is a God of resurrection. Our God is a God of hope. Our God is a God of faithfulness. It was in this resurrection process where these songs came from."
He Makes All Things New, a track off of the new EP, succinctly encapsulates where Teresa is currently. "You see," she says, "He has made me new. I am that new creation."
Teresa Peterson has most recently toured nationally with Catholic recording artist, Tori Harris, where she played at numerous places including St. Patrick's Cathedral and Catholic Underground, NYC.
"God's anointing is so evident upon this record and Teresa Peterson honors the gift she's been given to the fullest. She's one of the best, indie-Christian artists on the scene and I can't wait to see how her music and ministry grow!" – Tori Harris
Teresa has also led music for the Catholic Women's Conference for the Archdiocese of Philadelphia, was a featured artist for Catholic Underground, Philadelphia, and a worship leader and speaker for youth and young adult rallies and retreats across the United States. In MN, Teresa was apart of DOXA, a group that led worship in Eucharistic adoration in parishes in the St. Paul diocese as well as the youth rally, Lifeline.
Connect with Teresa Peterson

 Twitter: @teapeterson

 Facebook: facebook.com/TeresaPetersonMusic

 Instagram: instagram.com/teapeterson

 YouTube: Teresa Peterson
Website: teresapetersonmusic.com
Order



iTunes Preview
Related